When:
March 17, 2020 @ 6:00 pm – 7:00 pm
2020-03-17T18:00:00-05:00
2020-03-17T19:00:00-05:00
In 2020 we will host a book club to discuss  Mycelium Running  by Paul Stamets.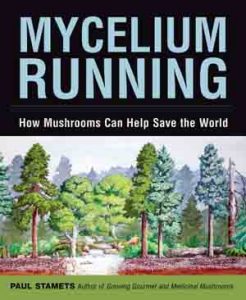 General plan:
[NOW ONLINE] – Book discussion of part 1 – The mycelial mind

July – Discussion of part 2 – Mycorestoration

October – Discussion of part 3 – Growing mycelia and mushrooms
This book can be purchased at A Room of One's Own located on State Street, or your favorite place to find books!
—> As of April 6, due to COVID-19, we are delaying our first in-person Book Club meeting. HOWEVER, MMS BoD has compiled some thoughtful discussion questions for Part 1 – The Mycelial mind. Please join the conversation on MMS Slack! <— 
Mycelium Running by Paul Stamets
Questions for Part I: The Mycelial Mind
Stamets compares mycelium structure to neurons, dark matter, and the internet. Does a similar structure imply similar function?

Do you agree with Stamets' claim that mycelial networks are "sentient"? (p. 8) 

What roles do fungi play in the ecosystem?

Discuss the difference between saprophytic, parasitic, and mycorrhizal fungi.

How do mutualistic fungi aid their host species?

Do you think Stamets' claim that "most of our ancestors' empirical knowledge is lost" is true? (p. 35)

Why do fungi make such effective antibacterial, antiviral, and anticancer medicines?

Do you think Stamets' claims of the healing powers of fungi are realistic? 

How can fungi be used in treating plant diseases? 

How risky do you think it is to fight fungi with fungi in forestry?
Please visit MMS Slack #book-club to discuss Part 1 now!